Coming up on Kate Plus 8, another mash-up of various activities that have nothing to do with each other in the hope of conjuring up some drama that will make good T.V. This will include antiquing, a tiny horse show, and a cooking competition.
Mommy Dearest refuses to let everyone win, which in theory I tend to agree with, but then she says without a hint of irony that you have to work really hard if you want to be first place in life. Lol, not if you can pop out six kids at once.
I guess we're back in PA. Some of the kids are tinkering around on their piano. Oh god, their piano is terribly out of tune. What a waste of a beautiful instrument.
Despite vowing years ago not to film in the children's rooms (From Kate's interview with Oprah: "We don't film in the kids' room. It's a rule. They need their privacy."), here we are filming in Mady's room. Mady explains in excruciating detail about some of the boring knick-knacks she has in there. I worry for the kids in that I think one of the unintended consequences of a reality show is that it can make a child believe that everything about them is always interesting and important. Adulthood is going to be cruel someday.
Cara doesn't want to show her room on camera. She shuts the door. Notably, Mady exclaims to Kate: "You told her you weren't going to do that! You said you weren't going to pressure her into showing her room!"
Number one, I appreciate Mady taking up for Cara. Number two, what a wonderful insight into what really happens behind the scenes. I.e.,
pressure
from Kate on the kids to do things they don't want to do for the cameras. Thanks for that whistle blowing, Mady.
They never explain how we got from no you're not coming into my room to welcome, here's my room (likely a lot of screaming, screeching and whining, knowing this family), but somehow here we are now in Cara's room. It's a teenage girl's room like any other. Neither interesting nor important.
Why is Deanna dressed like a Duggar in a long skirt and cardigan sweater? Cross promotion? In any case Kate's almost-only friend and employee Deanna is going to come along on the antique trip with the twins. Mady quips that she asked Deanna to adopt her a couple times. That's funny.
They head to one of the antique shops, and not surprisingly, it's much more fun to browse antique shops in person than to watch some stranger's kids do so on television.
How old does something have to be before it's considered antique? the half-asleep producer asks the younger three girls. Not willing to fall for that obvious
Kids Say the Darndest Things
set-up, Leah instead demands: "Why you asking
us
that?!" I kind of agree with her there. They didn't even go on this trip for pity sake. What do they care? Why doesn't he ask those
Roadshow
folks over at PBS?
They'll know
.
They head to some other places around town. Another antique store, more boring browsing. Did Kate give Mady a budget here? What is the occasion for allowing her to go on an antique shopping spree other then the producers thought of it? This junk doesn't always come cheap and I don't see anyone looking at prices.
Whoa, Mady really doesn't give two shits at this point about how Kate looks for the cameras. On the one hand, it's disappointing. On the other, it's a revelation.
Mady is offended because Kate is proud to point out something she knows Mady likes, to which Mady responds with a vicious eyeroll. Out of earshot from Kate she says Kate actually knows nothing about her even though she pretends she does, not her favorite color, or even her favorite food.
I suppose that might be a normal sentiment from a teenager feeling a natural pulling away with her mother. Kids are so fickle at that age too it's hard for even a good mother to keep up with their hormonal ups and downs and preferences. On the other hand I think Mady's probably right, ornery teenager or not, Kate does not really know her children. We know she doesn't just by watching her try to describe them as individuals. She can't say anything more about them than what's on the surface.
Even Cara seems to think that was a little harsh and has to admit that their preferences are always changing. Kate also feels this is just normal teenager stuff. Some of it, yes. Not all of it, I don't think.
The only mildly amusing find they stumble upon is an antique autopsy table. But the joke is over within 10 seconds, yet it feels like we're lingering on this forever. You can almost feel the perking up in the editing bay: Something interesting finally. Cool! It's just like
Dexter
! Edit, edit, edit!
Mady, with more eye rolls, says Kate makes dating jokes about everything. I'd love to see someone arm-chair psychology that one. Maybe there should be less joking around about it and more getting down to business. Mady says she can't wait until Kate gets married so these jokes can stop. I take that comment as actually the kids would take a new relationship and even marriage in stride. Contrary to the sheeple's claims the reason Kate doesn't date is for the kids (a dig at Jon, who obviously doesn't think of his kids because he dates). The divorce was ages ago, and for most of the kids, it's all they've ever known or almost. There is no hard and fast rule that all kids don't want or can't handle it if their parents move on.
Commercials.
Mady ends up picking up two pretty cool black end tables that in the right hands might be transformed into great night tables. She's enlisted the help of Aaden to help her fix them up. They're real pieces of junk before any work to them, I hope they didn't pay more than 10 bucks for the both of them. So what did the other kids get today? Oh right, nothing.
Mady and Kate are bickering back and forth like school children about whatever, except just one of the two is a school child. Mady finally grows up and thanks Kate for buying the night tables. To which Kate gives her a passive aggressive and immature "yeah" and huffs off. As I said in a recent comment it's very easy to see why this behavior from the children is happening. Kate engages. Instead of telling them stop whining, cut it out, knock it off, she instead engages. She argues back, she whines and bickers back. The kids get rewarded for whining every time because Kate responds and in some cases capitulates. I'm guessing if Kate vowed not to engage or give into them, and to start cutting them off when they start that behavior, this would all change within a matter of a week. Kids are as bad as the reins allow them to be, and these reins are so long I can't even see the wagon.
Aaden isn't wearing his glasses and my goodness now that he's not hiding behind them this little guy is a real heart-breaker! So handsome. He reminds me of Josef Gordon-Levitt
in his younger days
.
For an excruciating long time, we watch Aaden and Mady wash and spray paint the tables. The homespun guitar picking soundtrack sounds more like it belongs in a Ken Burns documentary than this drivel. You'll have to use your imagination to picture the camera slowly panning up this photo as David McCullough narrates soothingly.
I guess Kate has already gotten over her grudge, children usually do quickly, and brings the kids out some root beer. I hate to say it but the finished silver and red tables look worse than when they started, the spray paint is terribly uneven, but that's to be expected. Mady's only 14 and did this all by herself because her mother is 12 and left her to her own devices. Paige and Ty this teen is not. Speaking of which, I really liked TLC circa 1999. Didn't we all? Well, all of us except the homeowners of this room: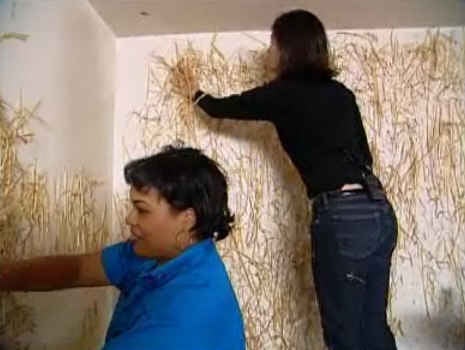 We're back and a savvy cameraman has zoomed in on the latest chore chart. Thank you for that tidbit, camera boy. I see Kate learned nothing from Kendra, a woman who broke down in tears at how hard the kids work and noticed the imbalance between the boys' chores and the girls. The girls get to do the quick, fun chores like clean the table, feed the dog, and rinse out the toothbrush sink. Can't each tooth brusher rinse out their own mess they make? Gross. The boys however are bogged down with the nasty, time-consuming chores, like cleaning three bathrooms and tidying up the basement.
Today, in another attempt to illicit some drama, they're visiting The Land of Little Horses. Kate talks as if she's actually considering getting a pony. It's like she's living out every little child's fantasy over and over on this show. Disney World! The beach! I want a pony! It's funny, yet a little creepy isn't it?
The ponies are marvelous. My dear ex-lawyer friend in Wyoming owns a pony named Stewey, and he's the most ridiculously cute thing in the world until you find out he's a little pisser and pushes around all the other full sized horses and humans too. But that's also cute.
Why doesn't Kate get an ass? It would go perfectly with her hat.
I looked down for one second to pull the above photo and found Kate's talking to some proletariat about what's involved with owning a pony. That doesn't happen much, interaction with the riffraff. Thankfully the lovely commoner makes a pony sound like a lot of work and not as easy as it looks. Kate has a dismayed look on her face, which means they probably won't be getting one, thank God. I don't know what she's worried about though. Just add this to the chore chart, on the boys' side.
Next the dog and pony show goes to a literal dog and pony show with dogs and ponies doing agility, plus a goat. So, dog, pony, and goat show. Either they sold out the entire place for this family or this show isn't all that popular. It does feel a little Great Depression era two-bit traveling circus show and definitely a little babyish for 11 and 14-year-olds.
The horses can do math, which means they're already close to edging out poor Schmoopy here in the I.Q department.
Next they go to a petting zoo with adorable goats and llamas. Surprisingly, Mady said she loved this outing. And that's the problem with teenagers is it's walking on egg shells, especially this one. On another day Mady could have been whining and moaning through this entire thing. A tiny, tiny part of me gets Kate. Blech.
Next up, who's gonna get Chopped?! Two things of note during this segment of commercials. One is they're not only recycling plot lines within
Kate Plus 8
, but now apparently lending them out to other shows.
7 Little Johnstons
are going camping, and, surprise, the weather is terrible and everyone is upset! Later is a promo for the stupid Jill and Jessa Duggar show which is really just the Duggars with a different name than that other child molester show. Anyway, this promo features that creepy
Children of the Corn
robotic 9-1-1 call from Ma Duggar: "Mother is bleeding after birth." Wtf! I guess I already missed that episode but despite myself I want to see it just for that.
Next up in this hodge-podge is Kate's idea she thought up late one night (heh, I just spit my Coke!) to have a cooking competition among the children. Oh it's their
nanny
again. A couple episodes ago Kate made it seem like Andrea had just swung by on her way to CVS to help them out in Flar-ida. But here she is popping up hither and yon all summer long. There's nothing wrong with having a full-time summer (or perhaps more) nanny if you can afford such a luxury, why not just own it?
The nanny has ugly french-tip nails just like Kate. How does one raise or raise-nanny eight children with those? I wonder if that's why she got hired.
They do a school yard pick, and tragically, Alexis and Collin get picked last. It's obvious those two are the family misfits. Alexis is not girly enough for the girly girls, so she's their scapegoat. And Collin, it's unclear what the issue is, but what I do see is he is solemn and silent on camera most of the time and the children largely ignore him, forming deeper and deeper bonds without him. They are young enough for a parent to intervene and stop this nonsense, but she won't. In fact she's standing right there smiling gleefully at all this, like it's fun to watch two children always left out get left out once again. F-ed up. Here's a genius idea, count off from one to six. Even to Mady odd to Cara. It's fair, and no one's feelings get hurt.
Kate really wants to see someone win (and, i.e., someone lose of course), and emphasizes this is about
winning
. Alexis says something about um, isn't this supposed to be about fun? Even Mady makes a snide comment about how it's all about winning for Kate. It's really hilarious when the children have moments where they are more mature than their mother, who is almost 30 years older than them.
Like I said before I agree with Kate to some extent, kids shouldn't always win, but could she try to act a little less sociopathic about it?
Mady says Kate criticizes them a lot, telling them they're doing things wrong. "When you only watch our show you only have to take her [Kate] an hour at a time. We do it every single day," Mady says. Heh. Must be hell.
I think Kate's rules are kind of stupid here. She's put ten ingredients in their mystery basket but they don't have to use all ten, they can pass on half of them. But that's the whole point, and fun, of
Chopped
. You get a wild ingredient thrown at you and there are no passes. If the kids get a pass, or
five
passes, they won't be forced to think through how they're going to make a difficult or unfamiliar ingredient work, stretching their young minds in the process. The way Kate has it, they can work around anything difficult to get to a dish they more or less would have made anyway on a normal day. What's more, it makes judging much harder and potentially unfair because you could be judging on a completely different set of ingredients. She never thinks stuff like this through and it's so hard for her to "get" something so simple.
The twins are onto this. Kate just wants the kids to make her lunch. Lol!
Collin, Hannah and Aaden are on Mady's team. Mady says she has the worst team. Aw, does she have to say that right in front of them? They look sad and just stare as she orders them about. How many plates are they supposed to make? There are like three skinny stalks of green onion and two little avocados. Kate's given them enough of these ingredients to feed a small ant farm and that's about it. I think they're right, she does just want someone to make her lunch!
Joel, apparently the smartest in the bunch, advises Aaden not to tell the producers anything bad about the twins because the twins are going to see this. He gets it.
Lengthy conversations about how the twins like to be in charge and the kids think they're bossy. The only thing rather interesting about all this is none of the kids, not a single one, wants Kate to hang around the kitchen during all this. She really sounds like a pain in the ass of a mother.
Cara's team made a tortilla corn salad with guacamole on top. It's colorful. Andrea and Kate say all nice things about it and act very impressed. Mady's team made tortilla chips and sesame tuna salad. That's something I would eat as an afternoon snack, looks yummy. Kate's criticism is she wants a garnish on the plate? Huh? Okay, 1985. As many of the food network shows say now, you don't put a garnish on a plate anymore unless it's meant to be eaten.
The tuna is simpler than the first dish especially since the tuna came straight from the can, but then the first dish looks raw to my eyes. I would have preferred the vegetables be sauteed and the tortilla be grilled or at least warmed up. Still, if I had to pick what I wanted to eat, I would have just gone with the simple tuna and chips. The tuna team added sesame to it which is a great pairing with tuna, and I'm not sure they knew that, so they get bonus points for that. I'd call this a draw, but I can't really say who should have won for sure without tasting them.
Commercials.
We're back, and nothing sucks the fun out of
Chopped
more than a harpy bringing you back to reality demanding you check with the other team to see if they've already opened up something before you open the same thing. The fun doesn't stop with lunch, now they're going to make dessert too. Kate's getting really lazy now, she says just use whatever ingredients you want. Lol, what's the point?
What the hell are Andrea and Kate doing? Looks like they're painting Easter eggs or something. There's so much crap all over the table they're at I can't even make out what's going on. And I've spent too much time wondering about something sure to be pointless and asinine. Mady politely asks if she can throw out her dessert and start over because she messed up. Kate is surprisingly patient about that, tells her that's fine.
You know what's nuts? Kate looks so much better without makeup and her hair pulled back in a ponytail. Many women do, but they don't believe that for some reason.
Mady made a cookie with avocado, which is not that weird at all despite the shocked face Andrea makes. Avocado is a common substitution as it's very fatty. Cara made a delicious cupcake she's made before.
Kate says she liked Cara's food better, "which doesn't help us." Why? If you liked Cara's food better, Cara should win. I don't get it. And, Mady wins? Huh?
Kate says she gave Mady credit for perservering and hanging in there. Hanging in there baking a cookie and brushing some sesame seed oil on tortilla chips? Someone please put me out of my misery. I didn't realize you could get wild card points for "trying" that could push you into the winner's circle even if your food was sub-par. Wtf! Even Mady admits she won because of sympathy and acknowledges Cara's food was better. Here is where Mady has some growing up to do. If she notices such an obvious injustice, she should tell Kate. It's just a stupid game, tell Kate you don't have to let me win because you feel bad (or are just trying to avoid a meltdown), give the win to the better meals. You know who is, shockingly, wonderful with child chefs? Gordon Ramsey. He tells them when they fuck up and he doesn't sugar coat it, and sometimes there are tears, but the kids admire and respect him and
want
to be told where they went wrong so they can
learn and grow
as chefs
.
No one ever won on
Master Chef
because Gordon Ramsey felt sorry for them and gave their shitty poached egg a pass.
The theme of this season has been irony, and here it is yet again. Kate just told us in a long and boring speech how important it is the kids understand in life there are winners and losers and that she's not going to let them win. And I think actually, a lot of parents would agree with her--it's important this helicopter generation of kids understand you win some you lose some. And yet here she is, awarding a win to the undeserving child. What!
And if you want to know why Mady is the way she is, it's because of things like that Kate pulls. Mady runs the dog, pony and goat show, and she knows it, and that's the worst when a child has that much awareness of their power.
Lol, Joel rounds out the episode by saying eh, he'd rather be playing laser tag. Ha, touché!